Well, I logged onto blogger a few times over the holiday but I never got around to actually writing anything coherent. Let's see if I can capture the last few days for you.
Friday after work I went straight to the Christmas party for my old work. It was nice to see everyone there. They had a chocolate fountain too which was yummy!
From there I headed South to Bellingham where I met up with a bunch of SS sisters for (what I hope is) our first annual Christmas dinner. It was absolutely wonderful. We all arrived around six (except Sue who made sure to get there early so we had a table) and didn't look at our watches until ELEVEN O'CLOCK!!!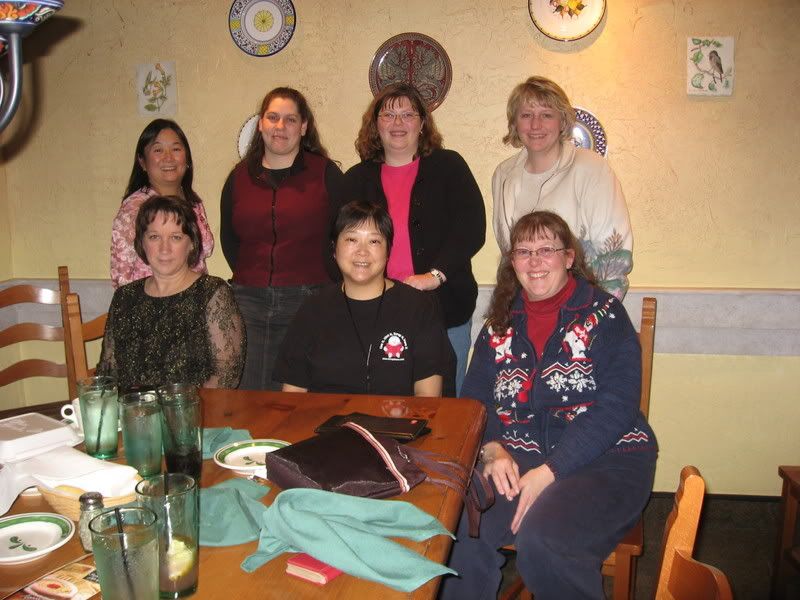 Here's the group picture we took. Back: Sue, Heidi, Darrcie, Ann. Front: Anne, Deb, Charlynn.
Ann was visiting from Colorado and she was the main reason for our get together. It was wonderful to see everyone though. Like I told Deb in an email later on, I left the restaurant on Friday with the warmest fuzziest feeling. It is awesome to be able to call such fantastic group of ladies my friends.
I hit Walmart on the way home. Didn't spend very much but man was it busy!!!
Saturday I needed to finish up my shopping. It was a very grey day and it was drizzling a bit but I put on my hoodie and my tennis shoes and went for a walk. From my house I can do a loop around the historic downtown in a very short time period. It felt good to walk and get some fresh air instead of dealing with traffic and trying to find parking spots. Of course that came later when I hit the mall.
Oh, I forgot, Robert arrived just before I got home on Friday night. He, Seth and I sat around and chatted for awhile and then at 1:30 am (AM) we STARTED a game of Scrabble. Well, we finished it too. I won that one. It was one of
many
games this weekend.
So Saturday I finished most of my shopping (I picked up the last gift on Sunday after church). Saturday night we had dinner at my parents. Seth and Robert have decided that Scrabble is the best game out there, which is *perfectly* fine with me. I used to have to bribe them to play with me so I'm loving this new attitude. We ended up having another rather late night but it was worth it. There is nothing quite like sitting around with family and laughing yourself silly.
Sunday, as mentioned was church. Afterwards, in honour of my dad's fiftieth birthday, we went out for dinner. Strangely enough, we went to Olive Garden. That's where I went with my SS friends on Friday. I swear I haven't been to OG in two years (basically since Meredith left) and this weekend I hit it twice in three days! Not that I'm complaining. They do have good food and the portions are huge so I make a point of bringing half of it home and freezing it for lunch. It was weird to go there so close together though.
After dinner we went back to my parents house were we played a few more rounds of Scrabble, a game of Risk (I made a valiant effort to hold on to Australia but Seth's army was too strong) and Yahtzee. We also continued with our Christmas tradition of begging for "just ONE present". Dad opened a few birthday gifts and and we passed out some stocking stuffers too. Stocking stuffers traditionally have been 90% edible in our house. This year the tradition continued.
Robert came back with Seth and I to our place overnight. In the morning I slept in somewhat and then wrapped presents!!! The boys had only finished their shopping the day before so we wrapped up all the gifts and then headed back over to Mom & Dad's. (In case you're wondering it's only about 3kms from our house to theirs so running back and forth isn't a big deal). We got there around noon and proceeded to take our time opening gifts (just like we like it).
I'm going to put the res of this as a seperate post because I've uploaded pictures.
~Heidi